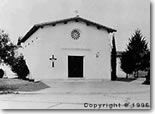 St. Clement's by-the-Sea had its beginnings Sept. 1, 1929. The Rt. Rev. R. H. Balcom, General Missionary of the Convention of Los Angeles, was sent to conduct the first service of the Episcopal Church of San Clemente. It took place at 7:00pm at the original Las Palmas Elementary School just across the street from the present church building and services continued thereafter on a regular basis.
On September 22, the first baptism was performed at the residence of the first Mayor of San Clemente, Thomas Murphine. Ole Hanson, founder of the town of San Clemente, was the godfather. Services continued in the schoolhouse until February 2, 1930; then they were held at the Community Center. Finally, on October 19, 1930, St. Clement's by-the-Sea Episcopal Church was dedicated at the 11:00am service by the Bishop of the Diocese of Los Angeles, the Rt. Rev. W. B. Stevens. A congregation of 200 was present. Services have continued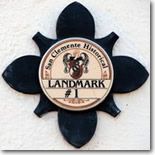 uninterrupted at St. Clement's to the present…..75+ years! In 1957, the then new parish hall was dedicated. Until that time, the current library served as the parish hall. In 1961, St. Clement's was granted parish status, which indicated the ability to be financially self-sufficient. In the same year, the new rectory (rector's home) was completed. In 1981, the church building was designated Historical Landmark #1 by the San Clemente Historical Society. A picture of the church circa 1930 can be seen on the Historical Society's website, here (or in the picture above). The original building has never undergone any structural changes.
The Sanctuary
The building of the church was accomplished through the generosity of Ole Hanson, founder of San Clemente. Having established the town and achieving incorporation in 1929, Mr. Hanson offered the gift of two lots for the establishment of a church for his "little Spanish village by the sea." The Episcopal Church accepted the offer. This land gift, a cash donation and various loans made possible the building of the first church in town: St. Clement's by-the-Sea Episcopal Church.
St. Clement's by-the-Sea has survived earthquakes and the Great Depression. It has served uninterrupted as a house of worship and has ministered to the needs of the community. It continues its dedication to the spirit of love and service to God's people.
In 1994, St. Clement's by-the-Sea began a building expansion program which included three phases.
Phase I expanded the current parish hall by one third and provided a much needed and more efficient kitchen.
Phase II Involved the construction of new classrooms and meeting space.
Phase III included the relocation of administrative offices. The new facilities were dedicated by the Rt. Rev. Robert Anderson, Assistant Bishop of the Diocese of Los Angeles at a ceremony held on Oct. 28, 1995.
---