Pentecost / Pentecostés
Welcome friends. We are glad you could be with us for this very special Pentecost Day service. Historically, this has been a bilingual service at St. Clement's by-the-Sea. And we have every intention of continuing that tradition. So, you will find the entirety of the service below, alternating between English (in black) and Spanish (in red) and the hymns featured in both languages.
¡Bienvenidos amigos! Estamos agradecidos de que hayan podido reunirse con nosotros para este servicio especial de Pentecostés. Históricamente, este ha sido un servicio bilingüe en San Clemente del Mar. Y tenemos toda la intención de continuar nuestra tradición. A continuación, encontrarán el servicio completo, alternando entre los dos idiomas, español (en rojo) e inglés (en negro) y los himnos en los dos idiomas también.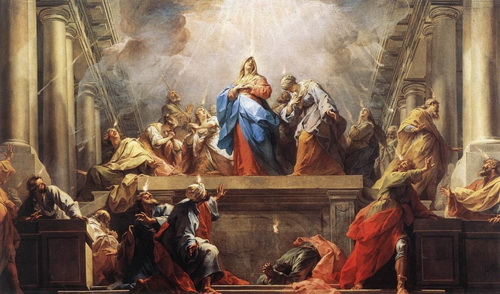 Pentecost, by Jean Restout, II, 1732, Musée du Louvre, Paris
Pentecostés, por Jean Restout, II, 1732, Museo del Louvre, Paris
Prelude / Preludio: "Spirit of God, Descend upon My Heart" – arr. by John Carter
(Larry Gates, Music Director)
For our worship together, you'll have to designate someone to read the "Celebrant's" parts. These parts are typically said by a priest. If you've been the "Celebrant" in prior weeks, perhaps have someone else try. Decide now, who will do that, and who will read the lessons and prayers. Some of you may be alone at home. Feel free to read aloud or silently. None of us is ever really alone. As Christ, who love us, is ever near. We are connected in ways the world cannot always see because the Spirit of God unites us. We begin with music.
Para nuestra adoración de esta noche, uno de ustedes puede leer las partes indicadas abajo como "Celebrante." Todos lean las partes en negrillas. Otros pueden leer las lecturas y oraciones. Sabemos que algunos de ustedes están solos este domingo, lejos de la familia, amigas o amigos. Están en nuestras oraciones. Por supuesto, nunca estamos realmente solos, porque Jesús está cerca de nosotros siempre. Estamos conectados en maneras que el mundo no puede ver, porque el Espíritu de Dios nos une. Comenzamos con música.
Please join us singing our Entrance Hymn, standing as you are able.
Favor de cantar con nosotros el Himno de Entrada, y si les posible ponerse de pie.
Entrance Hymn / Himno de Entrada: "Hail thee, festival day!" – Hymnal 225, vs. 1, 3 & 4 (Arthur Sauls, tenor with Larry Gates, piano)
Hail thee, festival day!
blest day that art hallowed for ever,
day when the Holy Ghost
shone in the world with God's grace.

1 Lo, in the likeness of fire, on those who await his appearing,
he whom the Lord foretold suddenly, swiftly, descends:

Refrain

3 Hark! for in myriad tongues Christ's own, his chosen apostles,
preach to the ends of the earth Christ and his wonderful works:

Refrain

4 Praise to the Spirit of Life, all praise to the fount of our being,
light that dost lighten all, life that in all dost abide:

Refrain
Words: Venantius Honorius Fortunatus (540?-600?); tr. English Hymnal, 1906, alt.
Music: Salve festa dies, Ralph Vaughan Williams (1872-1958) Used by permission. OneLicense.
Celebrant Alleluia. The Spirit of the Lord renews the face of the Earth.
People Come let us adore him. Alleluia.

Almighty God, to you all hearts are open, all desires known, and from you no secrets are hid: Cleanse the thoughts of our hearts by the inspiration of your Holy Spirit, that we may perfectly love you, and worthily magnify your holy Name; through Christ our Lord. Amen.
Celebrante ¡Aleluya! El Espíritu del Señor renueva la faz de la tierra
Pueblo ¡Vengan y adorémosle. ¡Aleluya!

Dios omnipotente, para quien todos los corazones están manifiestos, todos los deseos son conocidos y ningún secreto se halla encubierto: Purifica los pensamientos de nuestros corazones por la inspiración de tu Santo Espíritu, para que perfectamente te amemos y dignamente proclamemos la grandeza de tu santo Nombre; por Cristo nuestro Señor. Amén.
GLORIA - sung by all
(Musician / Músico: Tom Fahney)
Estribillo
Gloria a Dios en el cielo, y en la tierra paz
a los hombres que ama el Señor.
1. Por tu inmensa gloria te alabamos,
te bendecimos, te adoramos,
te glorificamos, te damos gracias,
Señor Dios, Rey celestial,
Dios Padre todopoderoso. Señor, Hijo único, Jesucristo.
2. Señor Dios, Cordero de Dios, Hijo del Padre;
tú que quitas el pecado del mundo,
ten piedad de nosotros;
tú que quitas el pecado del mundo,
atiende nuestra súplica;
tú que estás sentado a la derecha del Padre,
ten piedad de nosotros;
3. Porque sólo tú eres Santo,
sólo tú Señor,
sólo tú Altísimo, Jesucristo,
con el Espíritu Santo
en la gloria de Dios Padre.
Letra: Misal Romano © 1975, 1991, Comisión Episcopal de Pastoral Litúrgica de la Conferencia del Episcopado Mexicano. Derechos reservados. Administradora exclusiva en EE. UU.: US Conference of Catholic Bishops. Con las debidas licencias. Música: Jaime Cortez, © 2000, Jaime Cortez. Obra publicada por OCP. Derechos reservados. OneLicense
THE COLLECT
Celebrant The Lord be with you.
People And also with you.
Celebrant Let us pray.
O God, who on this day taught the hearts of your faithful people by sending to them the light of your Holy Spirit: Grant us by the same Spirit to have a right judgment in all things, and evermore to rejoice in his holy comfort; through Jesus Christ your Son our Lord, who lives and reigns with you, in the unity of the Holy Spirit, one God, for ever and ever. Amen.

LA COLECTA

Celebrante El Señor sea con ustedes.
Pueblo Y con tu espíritu.
Celebrante Oremos.

Oh Dios, que en este día enseñaste a los corazones de tus fieles, enviándoles la luz de tu Espíritu Santo: Concédenos por el mismo Espíritu, que tengamos un juicio acertado en todas las cosas, y que nos regocijemos siempre en su santa fortaleza; por Jesucristo tu Hijo nuestro Señor, que vive y reina contigo, en la unidad del Espíritu Santo, un solo Dios, por los siglos de los siglos. Amén.
FIRST LESSON Acts 2:1-21

(Reader: Max Ulz)
Lector A reading from The Acts of the Apostles.
When the day of Pentecost had come, the disciples were all together in one place. And suddenly from heaven there came a sound like the rush of a violent wind, and it filled the entire house where they were sitting. Divided tongues, as of fire, appeared among them, and a tongue rested on each of them. All of them were filled with the Holy Spirit and began to speak in other languages, as the Spirit gave them ability. Now there were devout Jews from every nation under heaven living in Jerusalem. And at this sound the crowd gathered and was bewildered, because each one heard them speaking in the native language of each. Amazed and astonished, they asked, "Are not all these who are speaking Galileans? And how is it that we hear, each of us, in our own native language? Parthians, Medes, Elamites, and residents of Mesopotamia, Judea and Cappadocia, Pontus and Asia, Phrygia and Pamphylia, Egypt and the parts of Libya belonging to Cyrene, and visitors from Rome, both Jews and proselytes, Cretans and Arabs-- in our own languages we hear them speaking about God's deeds of power." All were amazed and perplexed, saying to one another, "What does this mean?" But others sneered and said, "They are filled with new wine." But Peter, standing with the eleven, raised his voice and addressed them, "Men of Judea and all who live in Jerusalem, let this be known to you, and listen to what I say. Indeed, these are not drunk, as you suppose, for it is only nine o'clock in the morning. No, this is what was spoken through the prophet Joel: In the last days it will be, God declares, that I will pour out my Spirit upon all flesh, and your sons and your daughters shall prophesy, and your young men shall see visions, and your old men shall dream dreams. Even upon my slaves, both men and women, in those days I will pour out my Spirit; and they shall prophesy. And I will show portents in the heaven above and signs on the earth below, blood, and fire, and smoky mist. The sun shall be turned to darkness and the moon to blood, before the coming of the Lord's great and glorious day. Then everyone who calls on the name of the Lord shall be saved.' "
Lector The Word of the Lord.
People Thanks be to God.
PRIMERA LECTURA Hechos 2:1-21

(Lectora: Kelly Gonzalez)
Lector Lectura del Libro de los Hechos de los Apóstoles.
Cuando llegó la fiesta de Pentecostés, todos los creyentes se encontraban reunidos en un mismo lugar. De repente, un gran ruido que venía del cielo, como de un viento fuerte, resonó en toda la casa donde ellos estaban. Y se les aparecieron lenguas como de fuego que se repartieron, y sobre cada uno de ellos se asentó una. Y todos quedaron llenos del Espíritu Santo, y comenzaron a hablar en otras lenguas, según el Espíritu hacía que hablaran. Vivían en Jerusalén judíos cumplidores de sus deberes religiosos, que habían venido de todas partes del mundo. La gente se reunió al oír aquel ruido, y no sabía qué pensar, porque cada uno oía a los creyentes hablar en su propia lengua. Eran tales su sorpresa y su asombro, que decían: — ¿Acaso no son galileos todos estos que están hablando? ¿Cómo es que los oímos hablar en nuestras propias lenguas? Aquí hay gente de Partia, de Media, de Elam, de Mesopotamia, de Judea, de Capadocia, del Ponto y de la provincia de Asia, de Frigia y de Panfilia, de Egipto y de las regiones de Libia cercanas a Cirene. Hay también gente de Roma que vive aquí; unos son judíos de nacimiento y otros se han convertido al judaísmo. También los hay venidos de Creta y de Arabia. ¡Y los oímos hablar en nuestras propias lenguas de las maravillas de Dios! Todos estaban asombrados y sin saber qué pensar; y se preguntaban: —¿Qué significa todo esto? Pero algunos, burlándose, decían: —¡Es que están borrachos! Entonces Pedro se puso de pie junto con los otros once apóstoles, y con voz fuerte dijo: «Judíos y todos los que viven en Jerusalén, sepan ustedes esto y oigan bien lo que les voy a decir. Éstos no están borrachos como ustedes creen, ya que apenas son las nueve de la mañana. Al contrario, aquí está sucediendo lo que anunció el profeta Joel, cuando dijo: "Sucederá que en los últimos días, dice Dios, derramaré mi Espíritu sobre toda la humanidad; los hijos e hijas de ustedes comunicarán mensajes proféticos, los jóvenes tendrán visiones, y los viejos tendrán sueños. También sobre mis siervos y siervas derramaré mi Espíritu en aquellos días, y comunicarán mensajes proféticos. En el cielo mostraré grandes maravillas, y sangre, fuego y nubes de humo en la tierra. El sol se volverá oscuridad, y la luna como sangre, antes que llegue el día del Señor, día grande y glorioso. Pero todos los que invoquen el nombre del Señor, alcanzarán la salvación."
El Lector Palabra del Señor.
Pueblo Demos gracias a Dios.
Hymn before the Gospel / Himno antes del Evangelio "Envia tu Espíritu" Flor y Canto 474 (Musician / Músico: Tom Fahney)
Refrain / Estribillo
Envía tu Espíritu,
envía tu Espíritu,
envía tu Espíritu,
sea renovada la faz de la tierra.
Sea renovada la faz de la tierra.
Verses
1. Spirit of the living God, burn in our hearts,
and make us a people of hope and compassion.
2. Wind of promise, wind of change, friend of the poor,
empower your people to make peace and justice.
3. Breath of life and holiness, heal every wound,
and lead us beyond every sin that divides us.
Text: Based on Psalm 104:30 and the Pentecost Sequence; refrain and English verses adapt. by Bob Hurd; Spanish verses adapt. by Jaime Cortez. Text and music © 1988, 2000, Bob Hurd. Published by OCP. All rights reserved. Used by permission, OneLicense.
THE HOLY GOSPEL John 20:19-23

(Lector: Mother Norma)
Lector The Holy Gospel of our Lord Jesus Christ according to Saint John
People Glory to you, Lord Christ.
When it was evening on that day, the first day of the week, and the doors of the house where the disciples had met were locked for fear of the Jews, Jesus came and stood among them and said, "Peace be with you." After he said this, he showed them his hands and his side. Then the disciples rejoiced when they saw the Lord. Jesus said to them again, "Peace be with you. As the Father has sent me, so I send you." When he had said this, he breathed on them and said to them, "Receive the Holy Spirit. If you forgive the sins of any, they are forgiven them; if you retain the sins of any, they are retained."
Celebrant The Gospel of the Lord.
People Praise to you, Lord Christ.
THE SERMON IN ENGLISH The Rev. Norma Guerra
EL EVANGELIO San Juan 20:19-23

(Lector: Padre Patricio)
Lector Santo Evangelio de nuestro Señor Jesucristo según San Juan
Pueblo ¡Gloria a ti, Cristo Señor!

Al llegar la noche de aquel mismo día, el primero de la semana, los discípulos se habían reunido con las puertas cerradas por miedo a las autoridades judías. Jesús entró y, poniéndose en medio de los discípulos, los saludó diciendo: —¡Paz a ustedes! Dicho esto, les mostró las manos y el costado. Y ellos se alegraron de ver al Señor. Luego Jesús les dijo otra vez: —¡Paz a ustedes! Como el Padre me envió a mí, así yo los envío a ustedes. Y sopló sobre ellos, y les dijo: —Reciban el Espíritu Santo. A quienes ustedes perdonen los pecados, les quedarán perdonados; y a quienes no se los perdonen, les quedarán sin perdonar.

Lector El Evangelio del Señor.
Pueblo ¡Te alabamos, Cristo Señor!
EL SERMÓN EN ESPAÑOL La Rvda. Norma Guerra
THE NICENE CREED
We believe in one God, the Father, the Almighty,
maker of heaven and earth, of all that is, seen and unseen.
We believe in one Lord, Jesus Christ, the only Son of God,
eternally begotten of the Father, God from God, Light from Light,
true God from true God, begotten, not made,
of one Being with the Father. Through him all things were made.
For us and for our salvation he came down from heaven:
by the power of the Holy Spirit
he became incarnate from the Virgin Mary, and was made man.
For our sake he was crucified under Pontius Pilate;
he suffered death and was buried. On the third day he rose again
in accordance with the Scriptures; he ascended into heaven
and is seated at the right hand of the Father.
He will come again in glory to judge the living and the dead,
and his kingdom will have no end.
We believe in the Holy Spirit, the Lord, the giver of life,
who proceeds from the Father and the Son.
With the Father and the Son he is worshiped and glorified.
He has spoken through the Prophets.
We believe in one holy catholic and apostolic Church.
We acknowledge one baptism for the forgiveness of sins.
We look for the resurrection of the dead,
and the life of the world to come. Amen.
EL CREDO NICENO
Creemos en un solo Dios, Padre todopoderoso,
Creador de cielo y tierra, de todo lo visible e invisible.
Creemos en un solo Señor, Jesucristo,
Hijo único de Dios,
nacido del Padre antes de todos los siglos:
Dios de Dios, Luz de Luz,
Dios verdadero de Dios verdadero,
engendrado, no creado,
de la misma naturaleza que el Padre,
por quien todo fue hecho;
que por nosotros
y por nuestra salvación
bajó del cielo:
por obra del Espíritu Santo
se encarnó de María, la Virgen,
y se hizo hombre.
Por nuestra causa fue crucificado
en tiempos de Poncio Pilato:
padeció y fue sepultado.
Resucitó al tercer día, según las Escrituras,
subió al cielo
y está sentado a la derecha del Padre.
De nuevo vendrá con gloria
para juzgar a vivos y muertos,
y su reino no tendrá fin.
Creemos en el Espíritu Santo,
Señor y dador de vida,
que procede del Padre y del Hijo,
que con el Padre y el Hijo
recibe una misma adoración y gloria,
y que habló por los profetas.
Creemos en la Iglesia,
que es una, santa, católica y apostólica.
Reconocemos un solo Bautismo
para el perdón de los pecados.
Esperamos la resurrección de los muertos
y la vida del mundo futuro. Amén.
PRAYERS OF THE PEOPLE
The Leader and People pray responsively.
The Holy Spirit bids us to speak with confidence to God, who always responds with love.
That neither language nor culture prove a barrier to the spread of the Gospel and the growth of the Church, let us pray to the Lord: Lord, hear our prayer.
That the wonderfully varied family of nations live together in harmony and mutual respect, let us pray to the Lord: Lord, hear our prayer.
That all who speak in different languages understand one another through their loving actions, let us pray to the Lord: Lord, hear our prayer.
That the gifts and fruits of the Holy Spirit spread and increase, here and throughout the world, let us pray to the Lord: Lord, hear our prayer.
That members of this assembly, filled with the Holy Spirit, proclaim the good news of Christ Jesus in word and action, let us pray to the Lord: Lord, hear our prayer.
Let us pray for our own needs and those of others.
We remember before God the 358,000 beloved ones that have perished due to the Corona Virus, including the more than 100,000 Americans, the more than 3,900 Californians and the 130 from Orange County. (5/28/2020)
In their memory, please observe a Moment of Silence.
Please offer your own prayers, either silently or aloud.
We offer these prayers through the divine power of Christ, shed abroad in all the world. Amen.
ORACIÓN DE LOS FIELES
El que dirige y el Pueblo oran en forma dialogada.
El Espíritu Santo nos urge a hablar con confianza a Dios, quien siempre responde con amor.
Para que ni el lenguaje ni la cultura impidan la predicación del Evangelio y el crecimiento de la iglesia, roguemos al Señor: Señor, escucha nuestra oración.
Para que la gran familia de naciones viva en armonía y en el respeto mutuo, roguemos al Señor: Señor, escucha nuestra oración.
Para que los que hablan diferentes idiomas logran llegar al entendimiento mutuo por medio de su bondad, roguemos al Señor: Señor, escucha nuestra oración.
Para que los dones y frutos del Espíritu Santo se multipliquen y se divulguen aquí y en todo el mundo, roguemos al Señor: Señor, escucha nuestra oración.
Para que los miembros de esta asamblea, con el Espíritu Santo en sus corazones, proclamen la Buena Nueva de Jesucristo, de palabra y obra, roguemos al Señor: Señor, escucha nuestra oración.
Oremos por nuestras necesidades y las necesidades de los demás.
Recemos por los que han fallecido alrededor del mundo debido al Corona virus, para el veintiuno de mayo, son más de 358,000 personas. Más de 100,000 en este país. Más de 3,900 en California. Y alrededor de 130 en el condado de Orange. Estos son más que números. Son seres queridos de Dios y de sus familias. Encomendamos sus almas a nuestro Señor y a su misericordia. (28/5/2020)
Aañaden sus propias oraciones en silencio o en voz alta.

Ofrecemos estas oraciones a través del poder divino de Jesucristo esparcido por todo el mundo. Amén.
THE PEACE
Celebrant: "Let us turn away from evil and do good; let us seek peace and pursue it." 1 Peter 3:11
Celebrant The peace of the Lord be always with you.
People And also with you.
Offer the love of Christ to one another (in a socially responsible way!)
LA PAZ
Celebrante "Aléjense del mal y hagan el bien, busquen la paz y síganla." 1 Pedro 3:11

Celebrante La Paz del Señor sea siempre con ustedes
Pueblo Y con tu espíritu
(Intercambien la paz unos con otros siguiendo las recomendaciones de seguridad)
OFFERTORY / OFERTORIO "I Feel the Spirit Moving" – arr. by Mark Hayes
("Old Time Religion" and "Every Time I Feel the Spirit)
(Amanda Patterson, soprano with Larry Gates, piano)
This is a good time to remember the needs of the world and Church, and decide how you want to provide for those needs if you have not already.

"El Espíritu de Dios está en este lugar"
Este es un buen momento para recordar las necesidades del mundo y de la Iglesia. Si le es posible y desea contribuir para cubrir las necesidades de los demás.
Today's flowers of red ginger, anthurium and gladiolas are given by the Rev. Patrick Crerar in thanksgiving for Katrina Soto (who took this photo) and the great blessing that she is to our congregation.
Las flores del día de hoy son ofrecidas por el Padre Patrick Crerar en agradecimiento por Katrina Soto (quien tomó esta foto) y por la gran bendición que ella trae a nuestra congregación.
Our Lord's Prayer


Our Father, who art in heaven, hallowed be thy Name, thy kingdom come, thy will be done, on earth as it is in heaven. Give us this day our daily bread. And forgive us our trespasses, as we forgive those who trespass against us. And lead us not into temptation, but deliver us from evil. For thine is the kingdom, and the power, and the glory, for ever and ever. Amen.
Líder: Y ahora como nuestro Señor Jesús nos enseñó, oremos juntos,

(Familia Olmedo)
Padre nuestro que estás en el cielo,
santificado sea tu Nombre,
venga tu reino,
hágase tu voluntad,
en la tierra como en el cielo.
Danos hoy nuestro pan de cada día.
Perdona nuestras ofensas,
como también nosotros perdonamos
a los que nos ofenden.
No nos dejes caer en tentación
y líbranos del mal.
Porque tuyo es el reino,
tuyo es el poder,
y tuya es la gloria,
ahora y por siempre. Amén
BLESSING / BENDICION
May God, who by the Holy Spirit caused those of many tongues to proclaim Jesus as Lord, strengthen our faith and send us out to bear witness to him in word and deed, and the blessing of God Almighty, the Father, the Son, and the Holy Spirit, be upon us and remain with us for ever. Amen.
Que Dios, quien por el Espíritu Santo inspiró a gentes de muchas lenguas a proclamar a Jesús como Señor, fortalezca nuestra fe y nos envíe a dar testimonio de Él en palabra y obra, y la bendición de Dios omnipotente, el Padre, el Hijo y el Espíritu Santo, sea con nosotros y more con nosotros eternamente. Amén
RECESSIONAL HYMN / HIMNO DE SALIDA "Come down, O Love divine" - Hymnal 516
(Scott Dilbeck, bass with Larry Gates, piano)
1 Come down, O Love divine,
seek thou this soul of mine,
and visit it with thine own ardor glowing;
O Comforter, draw near,
within my heart appear,
and kindle it, thy holy flame bestowing.

2 O let it freely burn,
till earthly passions turn
to dust and ashes in its heat consuming;
and let thy glorious light
shine ever on my sight,
and clothe me round, the while my path illuming.

3 And so the yearning strong,
with which the soul will long,
shall far outpass the power of human telling;
for none can guess its grace,
till Love create a place
wherein the Holy Spirit makes a dwelling.
Words: Bianco da Siena (d. 1434?); tr. Richard Frederick Littledale (1833-1890), alt.
Music: Down Ampney, Ralph Vaughan Williams (1872-1958) Used by permission. OneLicense.
DISMISSAL
Celebrant Let us go forth into the world, rejoicing in the power of the Spirit. Alleluia,
alleluia.
People Thanks be to God. Alleluia, Alleluia.
DESPENDIDA
Celebrante Salgamos con gozo al mundo, en el poder del Espíritu. ¡Aleluya, Aleluya!
Pueblo Demos gracias a Dios. ¡Aleluya, Aleluya!