Be still and know that I am God
--Psalm 46:10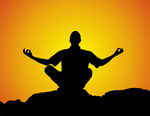 Please consider this your Invitation to join us for our Monday Meditation Class. There is no obligation to come every week. Come as often as you like.
Meditation Class meets every Monday at 6 pm in the church library. Meditation is nothing to shy away from. It is not a new phenomenon. Meditation has a rich history within Christian monastic society and is being revitalized in thousands of churches around the world. It is, most basically, a simple silent internal prayer guided by God's command in the book of Isaiah and in the words of the Psalmist, Be still and know that I am God.
Although we usually meet in the library, we sometimes meet close by, or in the air conditioned church office during the heat of summer. A notice will be posted on the library door. If you are running late, come anyway. We seldom start the actual meditation before 6:20. Even if you've tried meditation before, or if you have never meditated, please join us.
Most of us meditate sitting in chairs using a very simple form which we will share with you. We are a small, understanding group of friends who would love to have you with us. You may find meditation to be a simple act of humble faith that has hidden benefits to enrich your daily life.
For more information, please contact Matt Duncan at morphix1@cox.net
---