The Rev. Patrick Crerar:

Fr. Patrick began his ministry at St. Clement's by-the-sea in February of 2012. Prior to becoming the Rector for St. Clement's, Fr. Patrick was an Associate Rector with Grace Episcopal Church in Alexandria, Virginia. Fr. Patrick had been with Grace since June 2008, where he started as a Deacon and quickly became the Assistant Rector and later Associate Rector, before heading to California.

Fr. Patrick leads our services in both English and Spanish, and has a passion for Outreach and Mission, Pastoral Care and Christian Education. He cares deeply about inclusion of all (without exception) in our life together, care of the environment, and the sharing of the Good News and love of Jesus Christ. One of the hallmarks of his ministry is that of loving pastor, i.e. being present to parishioners in times of need.

Prior to being called to the Priesthood, Fr. Patrick was the owner of a successful advertising business for 11 years, was in advertising sales, and was an investment advisor before that. Fr. Patrick has a Masters in Divinity, Cum Laude, from the Virginia Theological Seminary, and a Bachelor of Science degree in Finance from George Mason University.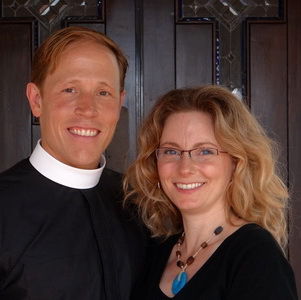 Fr. Patrick is very happily married to his wife of thirteen years, Christina, who is a professional jazz vocalist and voice instructor. Fr. Patrick enjoys tennis, surfing, running, hiking and almost anything in the great outdoors. Begin raised in a military family himself, Fr. Patrick has a big heart for the needs of military families today.
---