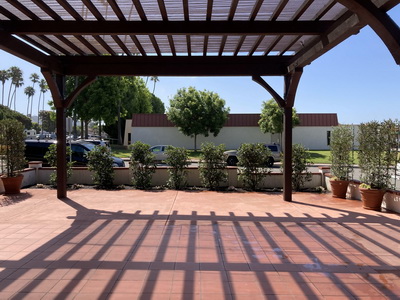 Reservations for our outdoor church services / Reservas para nuestras misa por afuera
Before clicking "Sign Up" to view the service times and reserve your spot, please do read all the requirements below / Antes de que haciendo clic en el enlace, por favor, lean los requisitos abajo.

This information is in Spanish below / Esta información está abajo en Español.
Signing up is easy, but we have limited seating for each service. On Sunday mornings, at 9am, we'll offer a more traditional service with the entire service (including music) on screen, chairs will be provided and the service is live-streamed for those at home. On Sunday mornings, at 11am, we offer our service in Spanish, again with music on screen, chairs provided and live-streaming.
As explained in detail in our eblasts, social distancing will be required at all services. When you make a reservation you are reserving a seat for yourself and those in your household who are attending and all sitting together with you.
Face masks will be required for everyone at all services and for the entirety of the worship service, no exemptions. Please bring your face mask from home. If you forget your masks, we have a limited supply of masks at the church. But, you will be required to wear one.
When you arrive for worship, an usher will check your temperature with a touchless thermal scanner before you are seated. If you register a temperature above 100.3 degrees, you will not be seated, but asked to return home with our loving prayers, encouraged to contact your physician, and to participate in our online services. Our reservations records may be used for contact tracing in the future, should that ever become necessary.
You will be directed to one of our touchless, hand sanitizing stations. We encourage you to use them. If you are going to be receiving Communion at the conclusion of the service, you will be required to use one.
By reserving your space, you are agreeing to politely cooperate with these requirements. After all, we are Episcopalians...
Many thanks.
---
Registrarse es fácil, pero tenemos asientos limitados para cada servicio. Los domingos por la mañana, a las 9 de la mañana, ofreceremos un servicio más tradicional con todo el servicio (incluida la música) en pantalla, se proporcionarán sillas y el servicio se retransmitirá en directo para los que estén en casa. Los domingos por la mañana, a las 11 a.m., ofrecemos nuestro servicio en español, nuevamente con música en pantalla, sillas proporcionadas y transmisión en vivo.
Como se explica en detalle en nuestros eblasts, será necesario un distanciamiento social en todos los servicios. Cuando hace una reserva, está reservando un asiento para usted y los miembros de su hogar que asisten y todos sentados junto a usted.
Se requerirán máscaras faciales para todos en todos los servicios y durante la totalidad del servicio de adoración, sin exenciones. Traiga su mascarilla de casa. Si olvida sus máscaras, tenemos un suministro limitado de máscaras en la iglesia. Pero, se le pedirá que use uno.
Cuando llegue para el culto, un acomodador controlará su temperatura con un escáner térmico sin contacto antes de que se siente. Si registra una temperatura superior a 100,3 grados, no se sentará, sino que se le pedirá que regrese a casa con nuestras oraciones amorosas, se le animará a que se comunique con su médico y a que participe en nuestros servicios en línea. Nuestros registros de reservas se pueden utilizar para rastrear contactos en el futuro, en caso de que sea necesario.
Se le dirigirá a una de nuestras estaciones de desinfección de manos sin contacto. Te animamos a que los uses. Si va a recibir la Comunión al finalizar el servicio, se le pedirá que use una.
Al reservar su espacio, acepta cooperar cortésmente con estos requisitos. Después de todo, somos episcopales ...
Muchas gracias.