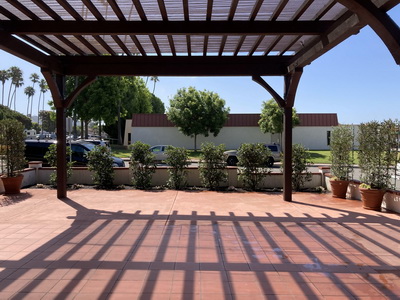 Reservations for our outdoor church services / Reservas para nuestras misa por afuera
Before clicking "Sign Up" to view the service times and reserve your spot, please do read all the requirements below / Antes de que haciendo clic en el enlace, por favor, lean los requisitos abajo.

This information is in Spanish below / Esta información está abajo en Español.
Signing up is easy, but we have limited seating for each service. There are three services offered at this time. On Saturday evenings, at 4pm, we'll offer a casual service with no music, and where you must bring your own chair and Book of Common Prayer to follow along. On Sunday mornings, at 9am, we'll offer a more traditional service with the entire service (including music) on screen, chairs will be provided and the service is live-streamed for those at home. On Sunday mornings, at 11am, we offer our service in Spanish, again with music on screen, chairs provided and live-streaming.
As explained in detail in our June and July/August Anchor Newsletters as well as in our eblasts, social distancing will be required at all services. When you make a reservation you are reserving a seat for yourself and those in your household who are attending and all sitting together with you.
Face masks will be required for everyone at all services and for the entirety of the worship service, no exemptions. Please bring your face mask from home. If you forget your masks, we have a limited supply of masks at the church. But, you will be required to wear one.
When you arrive for worship, an usher will check your temperature with a touchless thermal scanner before you are seated. If you register a temperature above 100.3 degrees, you will not be seated, but asked to return home with our loving prayers, encouraged to contact your physician, and to participate in our on-line services. Our reservations records may be used for contact tracing in the future, should that ever become necessary.
You will be directed to one of our touchless, hand sanitizing stations. We encourage you to use them. If you are going to be receiving Communion at the conclusion of the service, you will be required to use one.
By reserving your space, you are agreeing to politely cooperate with these requirements. After all, we are Episcopalians...
Many thanks.
---
Registrarse para asistir a la misa es fácil. Pero, tendremos espacio para solo 24 personas en cada misa. Ofreceremos una misa el sábado a las 4 por la tarde en inglés. Será una misa casual. La gente traerá su propia silla, máscara, y Libro de Oración Común. Ofreceremos una misa el domingo a las 9 de la mañana, otra vez en inglés, más tradicional, con sillas provistas, y música en pantallas con transmisión en vivo. Y ofreceremos una misa en español a las 11 de la mañana. Otra vez, sillas provistas, música en pantallas y la transmisión en vivo.
Todos los participantes serán requeridos de ponerse una máscara durante la misa entera. No hay excepciones. Por favor, traiga su propia máscara de su casa. Pero, si la olvida, tendremos unas en la iglesia. Necesitarán ponerse.
Observaremos distancia social todo el tiempo. Cuando esten haciendo una reservación será para sí mismo, y los miembros de su familia que estarán sentandos contigo. Por favor, ser puntual, porque estaremos haciendo la transmisión en vivo y tenemos que comenzar exactamente a las 11.
A su llegada, alguien va a tomar su temperatura con un escáner de temperatura. Sí es más alta que 100.3 no podemos ofrecerse una silla. Le diremos que llame a su médico y le animaremos a participar en nuestra misa virtual. Si fuera necesario podemos usar nuestras listas de reservaciones para hacer la traza de contactos.
Tendremos estaciones para desinfectar las manos. Por favor, usen estas estaciones. Si estará recibiendo la Comunión al fin de la misa, deberá usarlo.
Cuando haga una reservación, estará indicando que está de acuerdo con estos requisitos.
Muchas gracias.