Almighty God, heavenly Father, you have blessed us with the
joy and care of children: Give us calm strength and patient
wisdom as we bring them up, that we may teach them to love
whatever is just and true and good, following the example of
our Savior Jesus Christ. Amen.
-- Book of Common Prayer
The parish's Sunday School program is called Godly Play. Godly Play is successfully used by several denominations in churches around the world.
Godly Play was developed by an Episcopal Priest named Dr. Jerome Berryman in 1984 at his home parish in Houston. This program was inspired by Jerome's many years of work with children and his advanced Montessori studies with Sofia Cavaletti, a major Montessori contributor, in 1971.
Thanks to Dr. Berryman's work, Godly Play is a wonderful program for children, teachers, and families, and parishes involved in the ministry. When a ministry like Godly Play benefits so many people in a congregation, the rest of the congregation cannot help but be touched by that ministry, too.
Everything that happens in a Godly Play classroom – the classroom set-up, the carefully chosen and placed materials, and the management of the community of children – serves the child's relationship with God.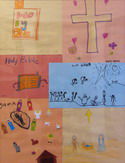 Additionally, the Godly Play program supports the teachers' developing faith relationship with Christ. Teachers will no longer be required to develop their own curriculum, crafts, and activities. They are free to focus on spiritual preparation and relationship-building between teachers, children, Christ, and families. This is the work Christ calls each of us to.
Our Sunday School program is always looking for good teachers. Those who love being with children, and helping them grow in Christ.
Frequently asked questions about Godly Play
---
Sunday School Prayer
Almighty God, we give you thanks for this time together.
We pray that our hearts may be open to hear your Word,
that our eyes may be open to see you in our world,
and that, as we leave here today,
we have learned something new about you and your love for us.
Bless all teachers and students, bless all the people at St. Clement's
and keep all those in any trouble or hurt in your tender care.
Amen.
A day in the life of Sunday School!

9:45am-10:00am Children arrive
Children update the "Bible Buck" board/start a "free time" craft
(Once they reach 10 "Bible Bucks", the children can claim a prize from the treasure chest!)
10:00am Review the lesson plan with the kids
10:05am Lesson Plan and Questions
10:15am-10:30am Craft related to the Lesson Plan
10:30am-10:35am Clean up
10:40am Teachers bring children into Church at the Peace
---