Holy Matrimony at St. Clement's by-the-Sea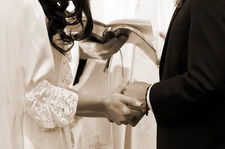 To have your wedding at St. Clement's is truly a blessing. Members of our parish, and their families, may be married in our church. Those who are not yet members may also be married at St. Clement's when certain criteria are met. Please complete the form below, and one of our clergy will call you to discuss Holy Matrimony in the Episcopal Church with you. We encourage you further to visit us on Sundays to determine if our worship style is suitable for your nuptials.

Policies of St. Clement's:
These are our general policies. Others policies will apply.
You must contact the priest who will be celebrating your wedding at least six months prior to the wedding to arrange for pre-marital preparation. You will be required to attend a minimum of five to six pre-marital preparation sessions with the priest performing your ceremony.
Flash photography is not permitted inside the church during the service. Your photographer must remain at the back of the church during the ceremony and is to cause as little distraction as possible.
For safety reasons, the throwing of bird seed, flower petals, blowing of bubbles, etc. is not permitted, nor are aisle runners or the scattering of flower petals. Wedding party or their designated florist are responsible for the removal of any arrangements.
Outside clergy are not be permitted to perform weddings at our church.
All services of Holy Matrimony will follow the order found in the Book of Common Prayer of the Episcopal Church, or an approved wedding liturgy.
General Fees (applicable to those who have been members for less than twelve months):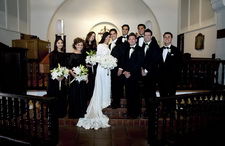 Standard Fees:
Church $ 550.00
Clergy Fee $ 600.00
St. Clement's Church Organist $ 200.00
Sexton Fee $ 150.00
Total $1,500.00
Other potential costs for your ceremony:
Service Bulletins $100.00*
Outside Musicians $100.00**
Source Fee $100.00 (Our Music Director can help you find musicians and soloists)
*You may provide your own bulletins. Bulletins must be approved by clergy prior to printing.
** If you choose to have musicians other than our organist perform at your wedding, a Bench Fee of $100 will be paid. All outside musicians must be approved by clergy.

---