Welcome!
Welcome Friends to St. Clement's by-the-Sea and our virtual worship experience. We are very glad you are here with us on this holy day. This Sunday, the third Sunday after Pentecost, we hear Jesus giving his disciples instructions about the cost of discipleship.
---
Prelude: "Minuet in G minor, No 13" arr. by Handel/Kempf
(Larry Gates, Music Director)

For our worship together, you'll want to designate someone to read the "Celebrant's" parts. These parts are typically said by a priest. If you've been the "Celebrant" in prior weeks, perhaps have someone else give it a try. Decide now, who will do that, and who will lead the Prayers. You can assign someone to read the lessons or we've also included links to parishioners reading the lessons for you. We all say the parts in bold. Some of you may be alone at home. Feel free to read aloud or silently. None of us is ever really alone. As Christ, who loves us, is ever near.
Please join us singing our Entrance Hymn, standing as you are able.
Processional: "Faith of our fathers! living still" Hymnal 558
(Scott Dilbeck, bass with Larry Gates, piano)

1 Faith of our fathers! living still
in spite of dungeon, fire and sword:
O how our hearts beat high with joy,
whene'er we hear that glorious word:

Faith of our fathers, holy faith!
We will be true to thee till death.

2 Faith of our fathers! faith and prayer
shall win all nations unto thee;
and through the truth that comes from God,
mankind shall then indeed be free.

Refrain

3 Faith of our fathers! we will love
both friend and foe in all our strife:
and preach thee, too, as love knows how,
by kindly deeds and virtuous life.

Refrain
Words: Frederick William Faber (1814-1863), alt.
Music: St. Catherine, Henri Frédéric Hemy (1818-1888); adapt. and arr. James G. Walton (1821-1905) OneLicense
Celebrant Blessed be God, Father, Son and Holy Spirit.
People And blessed be his Kingdom, now and forever. Amen.
Almighty God, to you all hearts are open, all desires known, and from you no secrets are hid: Cleanse the thoughts of our hearts by the inspiration of your Holy Spirit, that we may perfectly love you, and worthily magnify your holy Name; through Christ our Lord. Amen.
Gloria: S280
(St. Paul's Episcopal Church, Shelton, CT)

1 Glory to God in the highest,
and peace to his people on earth.

2 Lord God, heavenly King,
almighty God and Father,
we worship you, we give you thanks,
we praise you for your glory.

3 Lord Jesus Christ, only Son of the Father,
Lord God, Lamb of God,
4 you take away the sin of the world;
have mercy on us;
5 you are seated at the right hand of the Father;
receive our prayer.

6 For you alone are the Holy One,
you alone are the Lord,
7 you alone are the Most High,
Jesus Christ,
with the Holy Spirit,
in the glory of God the Father. Amen.
Music: Robert Powell (b. 1932), rev. OneLicense
THE COLLECT
Celebrant The Lord be with you.
People And also with you.
Celebrant Let us pray.
O Lord, make us have perpetual love and reverence for your holy Name, for you never fail to help and govern those whom you have set upon the sure foundation of your loving¬kindness; through Jesus Christ our Lord, who lives and reigns with you and the Holy Spirit, one God, for ever and ever. Amen.
You may be seated for the readings.
FIRST LESSON Jeremiah 20:7-13

(Reader: Jim Prothero)
Reader A reading from the book of the Prophet Jeremiah.

O LORD, you have enticed me, and I was enticed; you have overpowered me, and you have prevailed. I have become a laughingstock all day long; everyone mocks me. For whenever I speak, I must cry out, I must shout, "Violence and destruction!" For the word of the LORD has become for me a reproach and derision all day long. If I say, "I will not mention him, or speak any more in his name," then within me there is something like a burning fire shut up in my bones; I am weary with holding it in, and I cannot. For I hear many whispering: "Terror is all around! Denounce him! Let us denounce him!" All my close friends are watching for me to stumble. "Perhaps he can be enticed, and we can prevail against him, and take our revenge on him." But the LORD is with me like a dread warrior; therefore my persecutors will stumble, and they will not prevail. They will be greatly shamed, for they will not succeed. Their eternal dishonor will never be forgotten. O LORD of hosts, you test the righteous, you see the heart and the mind; let me see your retribution upon them, for to you I have committed my cause. Sing to the LORD; praise the LORD! For he has delivered the life of the needy from the hands of evildoers.
Reader Hear what the spirit is saying to God's people.
People Thanks be to God.
Musical Setting of Psalm 69:8-11, (12-17), 18-20
(Larry Gates, baritone)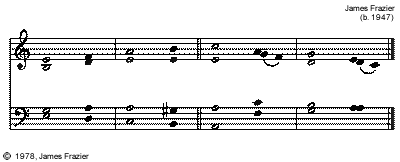 8 Surely, for your sake have I suffered re- | proach, *
and shame has covered my | face.

9 I have become a stranger to my own | kindred, *
an alien to my mother's | children.

10 Zeal for your house has eaten me | up; *
the scorn of those who scorn you has fallen upon | me.

11 I humbled myself with | fasting, *
but that was turned to my re- | proach.

[12 I put on sack-cloth | also, *
and became a byword among | them.

13 Those who sit at the gate murmur a- | gainst me, *
and the drunkards make songs a - | bout me.

14 But as for me, this is my prayer to | you, *
at the time you have set, O | Lord:

15 "In your great mercy, O | God, *
answer me with your unfailing | help.

16 Save me from the mire; do not let me | sink; *
let me be rescued from those who hate me
and out of the deep | waters.

17 Let not the torrent of waters wash over me,
neither let the deep swallow me | up; *
do not let the Pit shut its mouth up- | on me.]

18 Answer me, O Lord, for your love is | kind; *
in your great compassion, turn to | me.'

19 "Hide not your face from your | servant; *
be swift and answer me, for I am in di- | stress.

20 Draw near to me and re- | deem me; *
because of my enemies de- | liver me.
EPISTLE Romans 6:1b-11

(Reader: Lisa Warren)
Reader A reading from the Letter of Saint Paul to the Romans.
Should we continue in sin in order that grace may abound? By no means! How can we who died to sin go on living in it? Do you not know that all of us who have been baptized into Christ Jesus were baptized into his death? Therefore we have been buried with him by baptism into death, so that, just as Christ was raised from the dead by the glory of the Father, so we too might walk in newness of life. For if we have been united with him in a death like his, we will certainly be united with him in a resurrection like his. We know that our old self was crucified with him so that the body of sin might be destroyed, and we might no longer be enslaved to sin. For whoever has died is freed from sin. But if we have died with Christ, we believe that we will also live with him. We know that Christ, being raised from the dead, will never die again; death no longer has dominion over him. The death he died, he died to sin, once for all; but the life he lives, he lives to God. So you also must consider yourselves dead to sin and alive to God in Christ Jesus.

Reader The Word of the Lord.
People Thanks be to God.
Please stand (as you are able), and sing.
Sequence Hymn "Take up your cross, the Savior said" – Hymnal 675 (omit vs. 2 & 5)
(Arthur Sauls, tenor with Larry Gates, keyboard)

1 Take up your cross, the Savior said,
if you would my disciple be;
take up your cross with willing heart,
and humbly follow after me.
3 Take up your cross, heed not the shame,
and let your foolish heart be still;
the Lord for you accepted death
upon a cross, on Calvary's hill.

4 Take up your cross, then, in his strength,
and calmly every danger brave:
it guides you to abundant life
and leads to victory o'er the grave.

Words: Charles William Everest (1814-1877), alt.
Music: Bourbon, melody att. Freeman Lewis (1780-1859); harm. John Leon Hooker (b. 1944) OneLicense.
GOSPEL Matthew 10:24-39

(Reader: Mo. Norma)
Lector The Holy Gospel of our Lord Jesus Christ according to Saint Matthew
Jesus said to the twelve disciples, "A disciple is not above the teacher, nor a slave above the master; it is enough for the disciple to be like the teacher, and the slave like the master. If they have called the master of the house Beelzebul, how much more will they malign those of his household! "So have no fear of them; for nothing is covered up that will not be uncovered, and nothing secret that will not become known. What I say to you in the dark, tell in the light; and what you hear whispered, proclaim from the housetops. Do not fear those who kill the body but cannot kill the soul; rather fear him who can destroy both soul and body in hell. Are not two sparrows sold for a penny? Yet not one of them will fall to the ground apart from your Father. And even the hairs of your head are all counted. So do not be afraid; you are of more value than many sparrows. "Everyone therefore who acknowledges me before others, I also will acknowledge before my Father in heaven; but whoever denies me before others, I also will deny before my Father in heaven. "Do not think that I have come to bring peace to the earth; I have not come to bring peace, but a sword. For I have come to set a man against his father,
and a daughter against her mother, and a daughter-in-law against her mother-in-law; and one's foes will be members of one's own household. Whoever loves father or mother more than me is not worthy of me; and whoever loves son or daughter more than me is not worthy of me; and whoever does not take up the cross and follow me is not worthy of me. Those who find their life will lose it, and those who lose their life for my sake will find it."

Lector The Gospel of the Lord.
People Praise to you, Lord Christ.
You may be seated.
Sermon Mo. Norma

THE NICENE CREED
We believe in one God, the Father, the Almighty,
maker of heaven and earth, of all that is, seen and unseen.
We believe in one Lord, Jesus Christ, the only Son of God,
eternally begotten of the Father, God from God, Light from Light,
true God from true God, begotten, not made,
of one Being with the Father. Through him all things were made.
For us and for our salvation he came down from heaven:
by the power of the Holy Spirit
he became incarnate from the Virgin Mary, and was made man.
For our sake he was crucified under Pontius Pilate;
he suffered death and was buried. On the third day he rose again
in accordance with the Scriptures; he ascended into heaven
and is seated at the right hand of the Father.
He will come again in glory to judge the living and the dead,
and his kingdom will have no end.
We believe in the Holy Spirit, the Lord, the giver of life,
who proceeds from the Father and the Son.
With the Father and the Son he is worshiped and
glorified. He has spoken through the Prophets.
We believe in one holy catholic and apostolic Church.
We acknowledge one baptism for the forgiveness of
sins. We look for the resurrection of the dead,
and the life of the world to come. Amen.
THE PRAYERS OF THE PEOPLE
The Leader and People pray responsively
That all Christian people may be one and witnesses to the world, let us pray to the Lord.

United by baptism into the death of Christ, we seek to be bearers of his life. Give to your faithful people the strength to take up the Cross and follow Christ. Lord

Where selfishness makes people cling to false values, reveal the way of peace through the death of self. Give freedom from the sin that diminishes fullness of life.

Bless us, our families, friends and neighbors, with the spirit of mutual care. As servants of our Master, let us be servants of one another, unselfish in our relationships, seeking the common good.

Be close to those who are persecuted for their faith. Shield them from violence and give them hope.

Enrich with new life those who have died in faith. As they passed through the waters of baptism in this world, bring them through the gate of death into glory.

We remember before God the more than 446,000 beloved ones that have perished globally due to the Corona Virus, including the more than 120,000 Americans, the more than 5,290 Californians and the 185 from Orange County. (6/18/2020)
These are more than numbers and statistics. These were children of God. They were of many religious traditions and varied races, and all part of the human family. We commend their souls into God's loving arms.

Please offer your own prayers, either silently or aloud.

Called to labor for the Lord, we pray that all we do and say may be truly in his name. Amen.
THE CONFESSION
The Celebrant says

Let us confess our sins against God and our neighbor.

All kneel (as you are able).

Most merciful God, we confess that we have sinned against you in thought, word, and deed, by what we have done, and by what we have left undone. We have not loved you with our whole heart; we have not loved our neighbors as ourselves. We are truly sorry and we humbly repent. For the sake of your Son Jesus Christ, have mercy on us and forgive us; that we may delight in your will, and walk in your ways, to the glory of your Name. Amen.
THE ABSOLUTION


Almighty God have mercy on us, forgive us all our sins through our Lord Jesus Christ, strengthen us in all goodness, and by the power of the Holy Spirit keep us in eternal life. Amen.

All stand
THE PEACE
Celebrant: "Brothers and sisters…live in peace, and the God of love and peace will be with you." 2 Corinthians 13:11
Celebrant The peace of the Lord be always with you.
People And also with you.
Offer the love of Christ to one another (in a socially responsible way!)
OFFERTORY ANTHEM "Take My LIfe" – by Craig Courtney
(Amanda Patterson, soprano with Larry Gates, keyboard)

Take my life and let it be
Consecrated, Lord, to Thee.
Take my hands and let them move
At the impulse of Thy love.
Take my feet and let them be
Swift and beautiful for Thee.
Take my voice and let me sing,
Always, only for my King.
Take my silver and my gold,
Not a mite would I withhold.
Take my moments and my days,
Let them flow in ceaseless praise.
Take my will and make it Thine,
It shall be no longer mine.
Take my heart, it is Thine own,
It shall be Thy royal throne.

- Frances R. Havergal, 1874
OFFERTORY
This is a good time to remember the needs of the world and Church and decide how you want to provide for those needs if you have not already.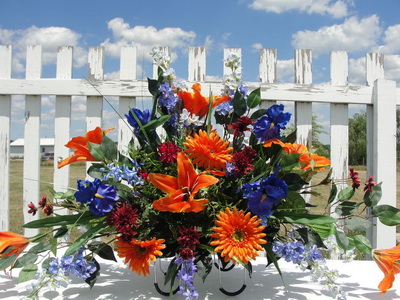 Today's flowers are given by Celia Lovell in celebration of her grandson Amari's birthday.
Lector We pray finally that prayers which Jesus himself taught us to pray:
Our Lord's Prayer

Our Father, who art in heaven, hallowed be thy Name, thy kingdom come, thy will be done, on earth as it is in heaven. Give us this day our daily bread. And forgive us our trespasses, as we forgive those who trespass against us. And lead us not into temptation, but deliver us from evil. For thine is the kingdom, and the power, and the glory, for ever and ever. Amen.
BLESSING
May God the Father bless us, God the Son heal us, God the Holy Spirit give us strength. May God the holy and undivided Trinity guard our bodies, save our souls, and bring us safely to his heavenly Kingdom, where he lives and reigns for ever and ever. Amen

RECESSIONAL ANTHEM: "Praise to the living God!" - Hymnal 372 (omit vs. 2&3)
(Arthur Sauls, tenor with Larry Gates, keyboard)

1 Praise to the living God!
All praised be his Name
who was, and is, and is to be
for ay the same.
The one eternal God
ere aught that now appears:
the first, the last, beyond all thought
his timeless years!

4 Eternal life hath he
implanted in the soul;
his love shall be our strength and stay
while ages roll.
Praise to the living God!
All praised be his Name
who was, and is, and is to be,
for ay the same.
Words: Medieval Jewish liturgy; tr. Max Landsberg (1845-1928) and Newton M. Mann (1836-1926)
Music: Leoni, Hebrew melody; harm. Hymns Ancient and Modern, 1985, alt. OneLicense.
DISMISSAL
Celebrant Let us go forth into the world, rejoicing in the power of the Spirit.
People Thanks be to God.
---